This past Friday I was invited to join a few South African girls I had met a few weeks ago for dinner, great gals. As it turned out their co-worker's girlfriend had come out form Hawaii, and so the two of them joined us as well as another couple that they knew. This was great as it allowed me to meet a bunch of people who not only spoke English but were also were also rad. We ended up going out for Korean barbecue, and once again it was delicious. Also I forgot my camera, one of these days I will have pictures of Korean food for you.
After supper after looking in a number of places we managed to find a place with a pool table(with pockets) and played some cut throat(a great team pool game). Great night.
You might be asking yourself, do pool tables ever not have pockets? Yes, yes they do, here in Korea the popular game is something called Four Ball or Danggu. Of the four balls that you have two are white and two are red. It is a two player game and each player "gets" a white ball, on their turn they must shoot their cue ball and hit both red balls with out hitting the other player's cue ball. Not sure how the scoring works but the little that we watched seemed pretty confusing.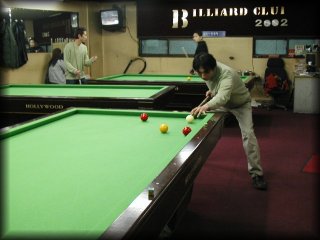 Saturday I had planned to go to Okpo where they were having a bazaar at the church to raise money to help a group of handicapped people in Korea. So after cleaning my apartment and making pancakes I headed off to the bus station. Having never been to Okpo before one of the South African girls offered to show me, which was super nice of her and really appreciated.
They had some great deals and I ended up coming home with a can opener, a cheese grater, a vegetable peeler and an assortment of canned goods. Even better than good deals I met a group of people that(like yesterday) speak English and are rad.
Today is Sunday and it has been raining so other than going to church and out for coffee I have been doing my best to stay warm and dry.
Side note, if any one knows where to get a cheap motorcycle/scooter in Korea let me know. I am in the market for one...